River cruising takes you on voyages through historic rivers full of culture that could not be reached with larger ships. As one of the fastest growing travel segments, river cruising provides intimate looks classic cities. Instead of wide-open oceans, you'll glide down the waterways of the historic Danube, Rhine, and Seiene in Europe or the Mekong River through Vietnam and Cambodia and with ships that carry a maximum of just over 200 passengers, it's the ideal method of travel to explore the Galapagos Islands of Ecuador or the Amazon River in Peru.
---
Looking for a more high-energy cruise experience? Check out Ocean Cruises
SS Maria Theresa in Budapest
Credit: Uniworld River Cruises
Calming Waters
The Experience
River Cruising navigates those spectacular rivers that helped form our worlds and cultures. Rivers of Europe, Vietnam, South America, and India are taken my (a gentle) storm as smaller ships take on their calming waters. These smaller ships give passengers the chance to explore multiple historic cities that are tucked into the charming little towns upon fairy tale destinations all from your own spacious balcony staterooms
Schonbrunn Palace | Vienna, Austria
Credit: Viking River Cruises
Enchanting Locations
Explore Beautiful Countries
Take a moment to imagine visiting enchanting locations through four different countries as you waltz your way down the Danube River. You'll explore the old world-cultures and heritages of Germany, Austria, Slovakia, and Hungary while only unpacking that suitcase once.
Start your voyage in Budapest, Hungary where you choose to take in the flavors of the food culture by learning to make the favorite local dish and then you'll spend the next day on a walking tour through the beautiful Slovakian capital while being enchanted in the Gothic-style architecture of the city.
Your next visit will be to the Austrian capital of Vienna where you are planning on checking a visit to the "Versailles of Vienna" off that bucket list and you take in the gardens and statuaries that bring history to live. You can plan to check off another item when you visit an abbey, still in use by Benedictine monks when you port in Krems, Austria before honoring the memory of World War II victims during a visit to Mauthausen Memorial at your next port in Linz, Austria.
Your last area to explore on your dream trip is in Passau, Germany where you absorb the awe and wonder of the Neuschwanstein Castle, as you stroll through the garden of the castle that inspired one of Walt Disney's classic fairy-tales.
Seared Duck Breast
Credit: Uniworld River Cruises
Delicious Eats
Fine Dining
All the onboard luxury doesn't skimp when it comes to the food on a river cruise. The culinary delights abound as you feast upon the freshest ingredients at both land and sea procured from local farms and producers in the region you are gliding through.
Schonbrunn Palace | Vienna, Austria
Credit: Viking River Cruises
Incredible Cuisine
Specialty Dining
Take our dining experience to the next level with a cooking lesson from one of the expert chefs or enjoy an meal in an open kitchen and gaze in wonder as the chef presents you with your meal. You will have no guilt as you indulge in the innovation and creativity of the world class dishes and the regional wines, beers, and spirits that have been handpicked for your voyage. Speaking of drinks, several of the river cruise lines even offer complimentary beverages during meal times. River cruising is also a great option for those with a "healthier" palette. With multiple dining options, your dining at sea will be a delightful addition to your memories of your cruise experience.
Endless Activities
Ships & Life Onboard
If you are looking for a cruise that takes you to the highest levels of relaxation, river cruising is for you.
The grace and beauty of river cruising, along with the excitement of exploring ancient lands and stories will not disappoint. With the highest staff-to-guest ratios, you will experience the highest level of satisfaction and relaxation. Start your morning with a sunrise yoga class on the top deck of your ship, before taking in a relaxing massage and facial at the spa. Your time onboard is limited, with river cruising you are given more time at port to explore the historic cities and cultures you have found yourself in that day. You'll also have your wi-fi to keep the family back home updated and a little bit jealous. Bonus points for sailing down rivers that are calm, you may not have to grapple with seasickness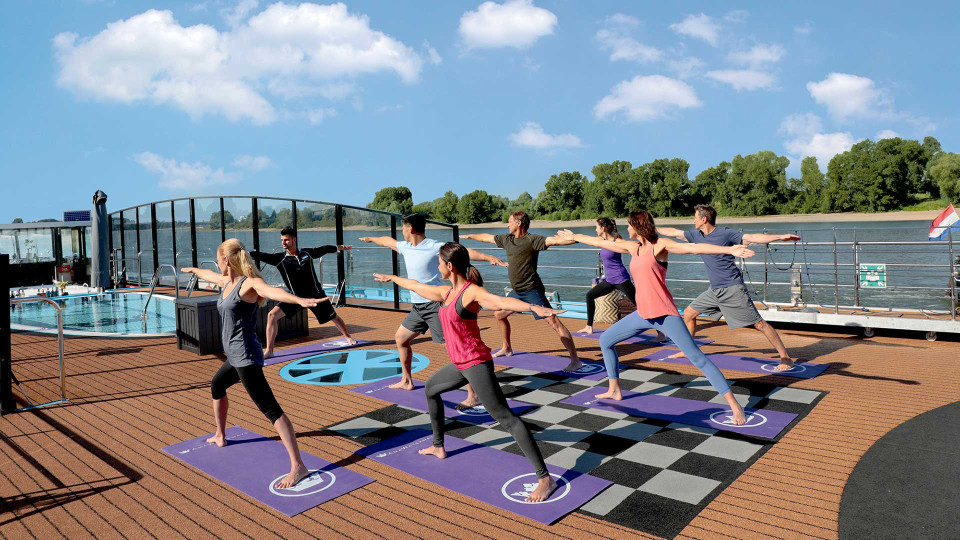 Wellness Yoga
Credit: AMA Waterways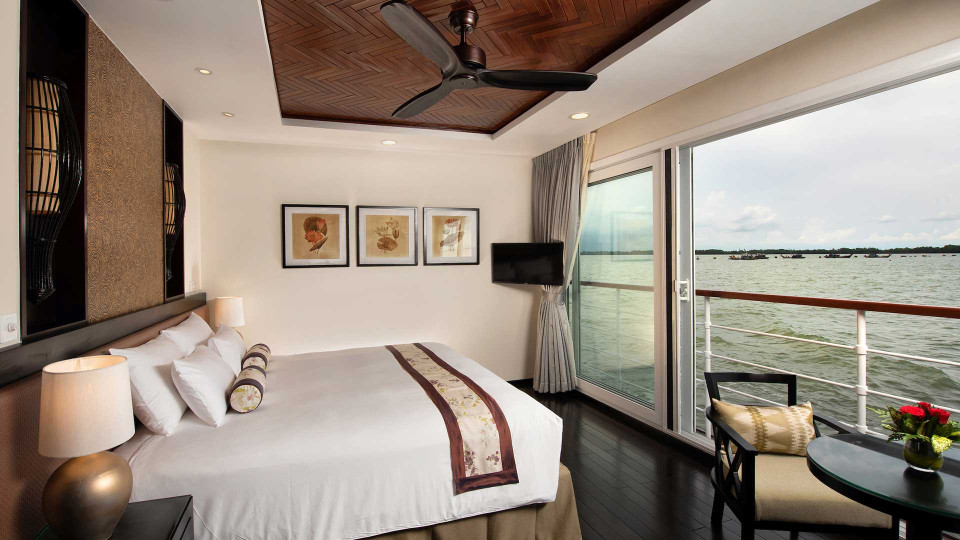 Panorama Suite
Credit: Avalon Waterways
Join The Fun
Your onboard experience doesn't end with the gorgeous common areas and the spa full of relaxing amenities.
---
No, a highlight of a river cruise is the beautiful and spacious staterooms. Balcony staterooms are the standard accommodation on board, with a small amount of non-view rooms. Maybe you'll decide on the room with French balcony, offering you views of markets and vineyards as you float by or maybe you'll choose to get a taste of ultimate luxury and spend your time in a suite with wall-to-wall and floor-to-ceiling windows that bring a bit of the outside in to perfect your voyage views.
Contact Us